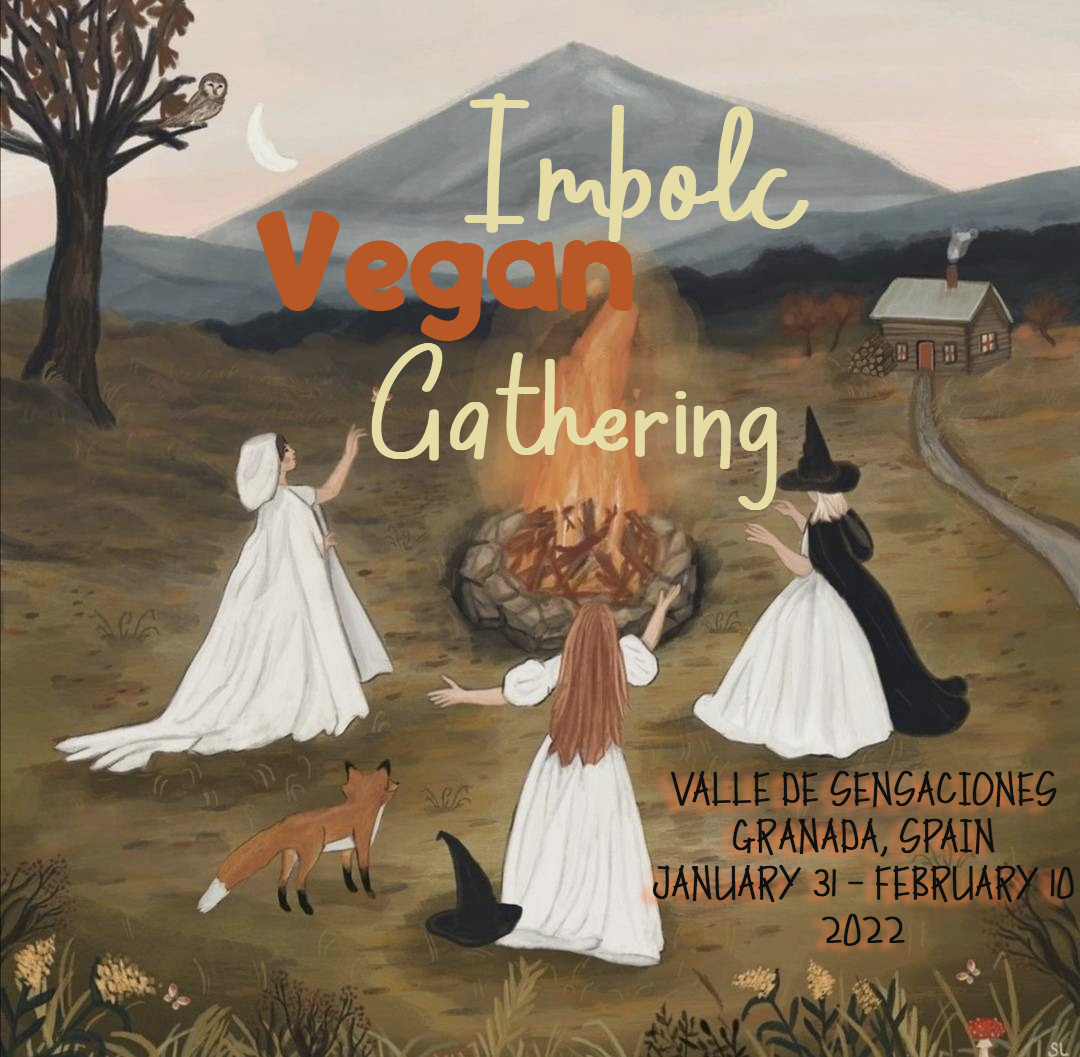 Imbolc Vegan Gathering
Valle de Sensaciones, January 31 – February 10 2022
(English follows Spanish below)
Hadas del espíritu verde, estamos llamando a un encuentro de Imbolc en el Valle de Sensaciones en el que celebraremos los primeros destellos de la primavera y de la fertilidad prometida.
Llamamos a un encuentro vegano en el que honremos los frutos de la tierra y en el que la energía y sabiduría de las plantas nos dé fuerzas. Te invitamos a que te unas a nosotrxs alrededor de la hoguera de Imbolc para festejar bajo la luna nueva pero también para que cada quien se pregunte: Qué llamas danzan en tu corazón? Qué es esa fuerza fogosa en tu interior que puede calentar y reconfortar pero también quemar y destruir?
Invocamos a la diosa Brígida en sus muchos nombres y formas, protectora de bardos y sanadores, para que esté con nosotrxs y nos inspire con su poesía y sus dulces cantares.
Ven para un encuentro de Imbolc, sube la temperatura de tu cuerpo y de tus intenciones y únete a nosotrxs para degustar deliciosas comidas veganas hechas con amor, amor, amor!
Para registrarte haz click aquí.
Besos y chispas,
Pangea y Luna
* * *
Faeries of the green spirit, we are calling for an Imbolc gathering at Valle de Sensaciones in which we celebrate the first glimpses of spring and the promised fertility of the land.
We are calling for a vegan gathering in which we honor the fruits of the earth and (em)power ourselves with the energy and wisdom of plants. We invite you to join us around an Imbolc bonfire to feast under the new moon but also to ask some questions: What flames are dancing in your heart? What's that fiery force inside you that can warm and comfort as well as burn and destroy?
We summon the goddess Brigid in her many names and forms, protector of bards and healers, to be with us and inspire us with poetry and soothing songs.
Come for an Imbolc gathering, turn up the heat of your body and intentions and join us for delicious vegan food cooked with love, love love!
To register click here.
Kisses and sparks,
Pangea & Luna