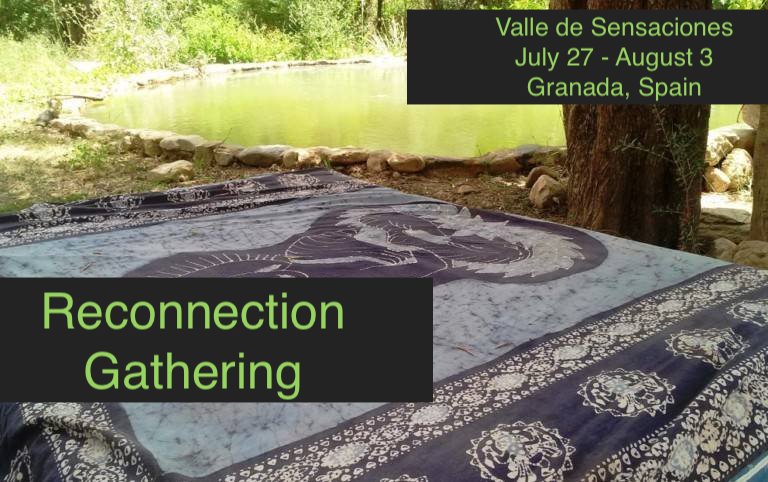 THIS GATHERING IS CURRENTLY FULL — IF YOU LIKE YOU ARE ABLE TO REGISTER FOR THE WAITING LIST.
ESTE ENCUENTRO ESTÁ LLENO — PUEDES REGISTRARTE SI QUIERES PARA LA LISTA DE ESPERA.
*****
In these difficult times of physical isolation, we are slowly re-emerging with the aim to re-connect. We invite you to…
Re-connect with our physical bodies;
Re-connect with nature,
Re-connect with each other and the community.
We will focus on our bodies through yoga, movement, massage, meditation, dance, exquisite food and sensual pleasure.
Valle de Sensaciones provides countless opportunities to engage with nature, work on the garden, explore and maintain the land, and build something new.
We will reconnect with each other through authentic relating games, heart circles, radical honesty and love.
Cuddles and tickles,
Sameesi, Simba and Luna
En estos tiempos raros de aislamiento físico, estamos resurgiendo lentamente con el objetivo de volver a conectarnos. Te invitamos a…
Volver a conectar con nuestros cuerpos físicos;
Volver a conectar con la naturaleza,
Volver a conectarnos entre sí y con la comunidad.
Nos centraremos en nuestros cuerpos a través del yoga, el movimiento, el masaje, la meditación, la danza, la comida exquisita y el placer sensual.
Valle de las Sensaciones ofrece innumerables oportunidades para interactuar con la naturaleza, trabajar en el huerto o explorar y mantener la tierra y construir algo nuevo.
Nos reconectaremos entre nosotres a través de juegos de relaciones auténticas, círculos del corazón, honestidad radical y amor.
Con mimos y cosquillas,
Sameesi, Simba y Luna
REGISTER for the gathering using this form.
REGÍSTRATE usando este formulario.
Thank you for registering early for the gathering. Not all fields are required, and we will contact you after your registration to confirm details and provide additional information. If you don't know something right away (like travel details), that is OK but please keep us informed before the gathering begins. We can't wait to hear from you! Top of Form * indicates required field.
Gracias por registrarte a este gathering con antelación. No es necesario rellenar todos los campos en el formulario y, de todos modos, una vez te hayas registrado te contactaremos para confirmar tus datos y darte más información sobre el gathering. Si hay algo que no sabes en este momento (como tus fechas de viaje, por ejemplo) no pasa nada, pero por favor infórmanos antes de que empiece el gathering. Un asterisco (*) indica un campo necesario.